Worksheet on Quadrilateral


In worksheet on quadrilateral we will solve 10 different types of question in quadrilateral.


1. A quadrilateral has ………….. angles, …………… diagonals, ……………… sides and ………… vertices.



2. In a quadrilateral, ∠A = ∠B = 75° and ∠D = 110°, find ∠C.




3. Find the unknown angle in the quadrilateral;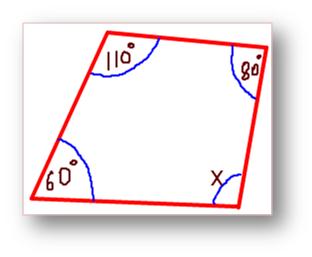 4. Which of the sides appear to be parallel? Write them using the symbol:

(i)




(ii)






5. LMNO is a Parallelogram.




Fill in the Blanks:


(a) ∠M = ………………….

(b) ML = …………….

(c) MN = …………….

(d) ∠L = ………………….

(e) Two diagonals equals ……………….. and ……………..
6. A rhombus has all its …………… equal.




7. Opposite angles of a rhombus are ……………….




8. Draw a rhombus whose one side is 5 cm and one angle is 60°




9. Draw a parallelogram ABCD with its sides 5 cm and 7 cm and A is 75°.




10. A quadrilateral has three angles equal to 75°, 75° and 110°. Find its unknown angle.



Construction of Perpendicular Lines by using a Protractor.
Sum of Angles of a Quadrilateral.
Practice Test on Quadrilaterals.


5th Grade Geometry Page

5th Grade Math Worksheets

5th Grade Math Problems

From Worksheet on Quadrilateral to HOME PAGE
Didn't find what you were looking for? Or want to know more information about Math Only Math. Use this Google Search to find what you need.